Leaked TTIP energy proposal could 'sabotage' EU climate policy | The Guardian
For everyone who thought #BRExit was the worst thing in the world for the environment –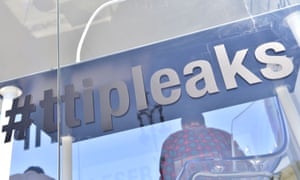 EU proposal on a free trade deal with the US could curb energy saving measures and a planned switch to clean energy, say MEPs

Source: Leaked TTIP energy proposal could 'sabotage' EU climate policy | Environment | The Guardian
For everyone who thought #BRExit was the worst thing in the world for the environment – can't even hold a candle to TTIP which Clinton and Trump will support in the end no matter how much they tell us they won't.
In case you missed the information about TTIPLeaks the first time around:
http://www.greenpeace.org/eu-unit/en/News/2016/TTIPleaks-confidential-TTIP-papers-unveil-US-position/
Long standing environmental protection is dropped
The "General Exceptions" rule, enshrined in the GATT agreement of the World Trade Organisation (WTO), is absent from the text. This nearly 70-year-old rule allows nations to restrict trade "to protect human, animal and plant life or health", or for "the conservation of exhaustible natural resources" [2].
No place for climate protection in TTIP
If the goals of the Paris Summit to keep temperatures increase under 1.5 degrees are to be met, trade should not be excluded from CO2 emissions reduction specifications. But nothing about climate protection can be found in the obtained texts.
Precautionary principle is forgotten
The US wants the EU to replace the EU's hazard approach with 'risk management', disregarding the precautionary principle, [3] which is enshrined in the EU Treaty but is never mentioned in the consolidated text.
Open door for corporate lobbying
The leaked documents suggest that both parties consider giving corporations much wider access and participation in decision making.
Jorgo Riss said: "The effects of TTIP would be initially subtle but ultimately devastating. It would lead to European laws being judged on their consequences for trade and investment – disregarding environmental protection and public health concerns."